Why I Collaborate
One of the things you may have noticed about me is that while my key focus is on Quiet the Hive, I love to collaborate. Some of you may be wondering why, so I wanted to take some time to reflect on how and why I collaborate.
Basically, I love to work in three ways which I see as collaboration, each a little different to the other, and each with varying degrees of collaboration.
The first is about championing other women and their small businesses. You may have noticed how I invite you to let me know if you think there is a women who I should feature on my podcast. This isn't a lazy approach to guest finding, although it may seem like it! It's a genuine attempt to reach women from outside of my sphere and offer them the chance to share their journey or experiences and allow them to expand their reach slightly. It's a great way for me to introduce you to women I think you should know about, listen to and/ or support directly.
Another way I do this is through my newsletter and social media, highlighting other women who have something important and relevant to say or who's businesses I want to champion. I'm also happy to write guest blogs and be interviewed myself for other people's websites and podcasts so that they may also broaden their reach (and I mine!).
The second way I collaborate is by 'putting my money where my mouth is'! One of the indirect advantages of coming on the AWEsome Women's Retreat is that if we can work with you in the future to promote and support your blossoming or reinvigorated business, we will. I am so proud that on the two main collaborations I'm working on (AWEsome Women and A Life Less Ordinary) we are working with and showcasing alumni from my previous programmes to support their businesses (e.g. on AWEsome we are offering headshots from award winning photographer Gemma Brunton, and are catering is being done by the wonderfully talented Sarah Reaves-Town from Gaia Girls, and on A Life Less Ordinary we are being catered for by the effervescent and brilliant Ellie Aldridge from Fearless Transformations).
And the final way is by working in collaboration with other women to develop transformational programmes using our unique and complimentary skills, experience and talent to create something incredible for our clients.
Working alongside Carrie-Ann and Lorna with AWEsome Women, and with Jo Lee (I can never just call her 'Jo' for some reason!) on A Life Less Ordinary brings me all kinds of joy! For us it's about bringing different thinking and experience, but with values that align. Working with other women is chance to have fun, grow and challenge each other to send our best work into the world.
Our Story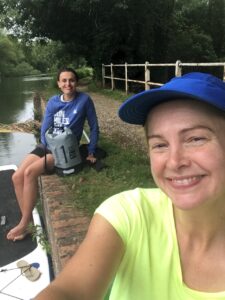 Jo and I met through the wonderful social enterprise that is This Mum Runs. She trained me to become a Run Angel (leading social runs), and then our paths just kept crossing. The more we got to know each other, the more we connected. Jo is actually an alumni from the Amazing Women Leaders and AWEsome Women, and we ascribe to very similar values around supporting and giving other women the space and belief to be themselves.
Jo is an incredible coach, specialising in adventure coaching and runs a successful business Infinite Pathways where she takes women on Find Your Flow weekends to help them become a little more adventurous.
Jo was there the first time I wild camped, got me home from Croatia (where I was paddle boarding with her and the wonderful Ellie from Fearless Transformations) when my Mum was dying, and the person most likely to be found right there in your corner.
We knew we could create something sensational together to coach and support women to step out of their comfort zone and embrace their inner adventurer – whatever adventure looks like to you. After exploring helping women ease out of lockdown in their own way, A Life Less Ordinary was the result of our work together.
Want to come and hang out with Jo and I and find your inner adventurer? Join us for the A Life Less Ordinary Weekender. The next one takes place on the 12-14th November 2021.

Tell Me More

Previous
Next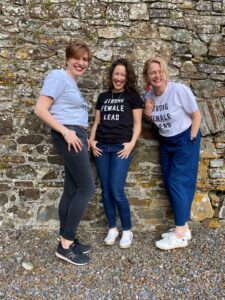 Lorna's wife was my ex-husband's first boss in his third career! Lorna is also my youngest's Godmother. I met Carrie-Ann at a conference where I was delivering a workshop that was well outside my comfort zone. We went on to do some work together for her team, and then I pretty much stalked her into being my friend! I introduced Carrie-Ann and Lorna at the very first Amazing Women Leader's group, and the rest is history!
We so admire each other's businesses, approach and experience and were really keen to find the niche that meant our unique skills would combine in a way that would produce something really special. Over a glass of fizz, the AWEsome Women's Retreat was born.
Working together is an absolute joy, and the beauty of a trio is that if one of us is busy or feeling out of sorts, the other two are there to hold the fort. We are all quite different, but our values and ethos are so similar that we just complement each other – ask the retreat alumni!
Want to hang out with Carrie-Ann and Lorna too? The AWEsome Women's Retreat is open now for bookings for the weekend 1-3rd October, but there are only limited VIP places left.

Let's Do This!

Previous
Next